For a couple of weeks now, Tactical IP has been putting together a list of companies that deserve recognition for their *outstanding* intellectual property enforcement efforts. Below is their latest list of "IP Bully of the Month" nominees. You can check out all the recent entries here. Feel free to comment on who you think deserves honors for the month.
---
The Sex Pistols
— for demanding that London-based
Icecreamists
stop using its "God Save the Cream" advertising campaign for ice cream, which they allege is confusingly similar to the design of their "God Save the Queen" logo. Oddly enough, the pioneers of punk haven't yet demanded that the Icecreamists stop selling its absinthe-flavored ice cream called "The Sex Pistol." (
source
)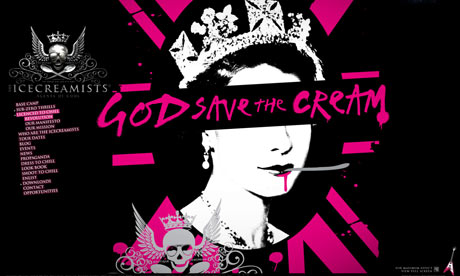 Google Inc.
— for demanding that independent software developer, Steve Kondik a/k/a Cyanogen, stop distributing his free software,
CyanogenMOD
, that greatly expands the functionality of Google's Android smartphone operating system. (
source
)
The U.S. Olympic Committee
(USOC) — for successfully requiring Olympic Meat Packers, Inc. to change its name to Olympia Meat Packers, Inc. after nearly 40 years of use. Congratulations! (
source
)
Texas Instruments
(TI) — for sending cease-and-desist letters to TI-83 owners who hacked their calculators to run "unapproved operating systems," which added new functionality to the devices. TI claims that the
Digital Millennium Copyright Act
(DMCA) justifies their demands. (
source
)
The International Olympic Committee
(IOC) — for sending a cease-and-desist letter to amateur photographer, Richard Giles, after finding roughly 300 pictures on Flickr, which were taken by Mr. Giles during his trip to the 2008 Beijing Games. (
source
)